ELISHA CROFUT KEELER, 1907-2005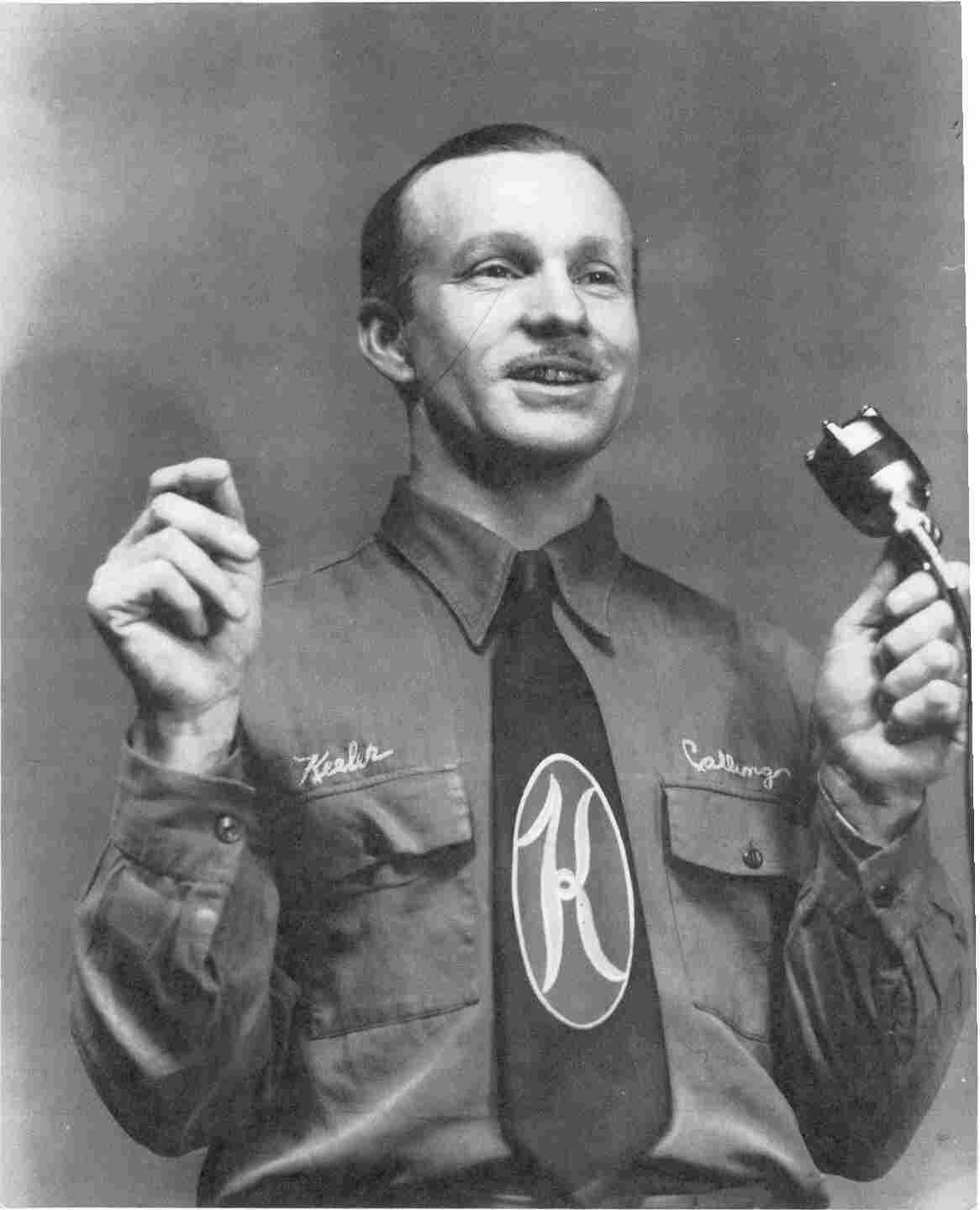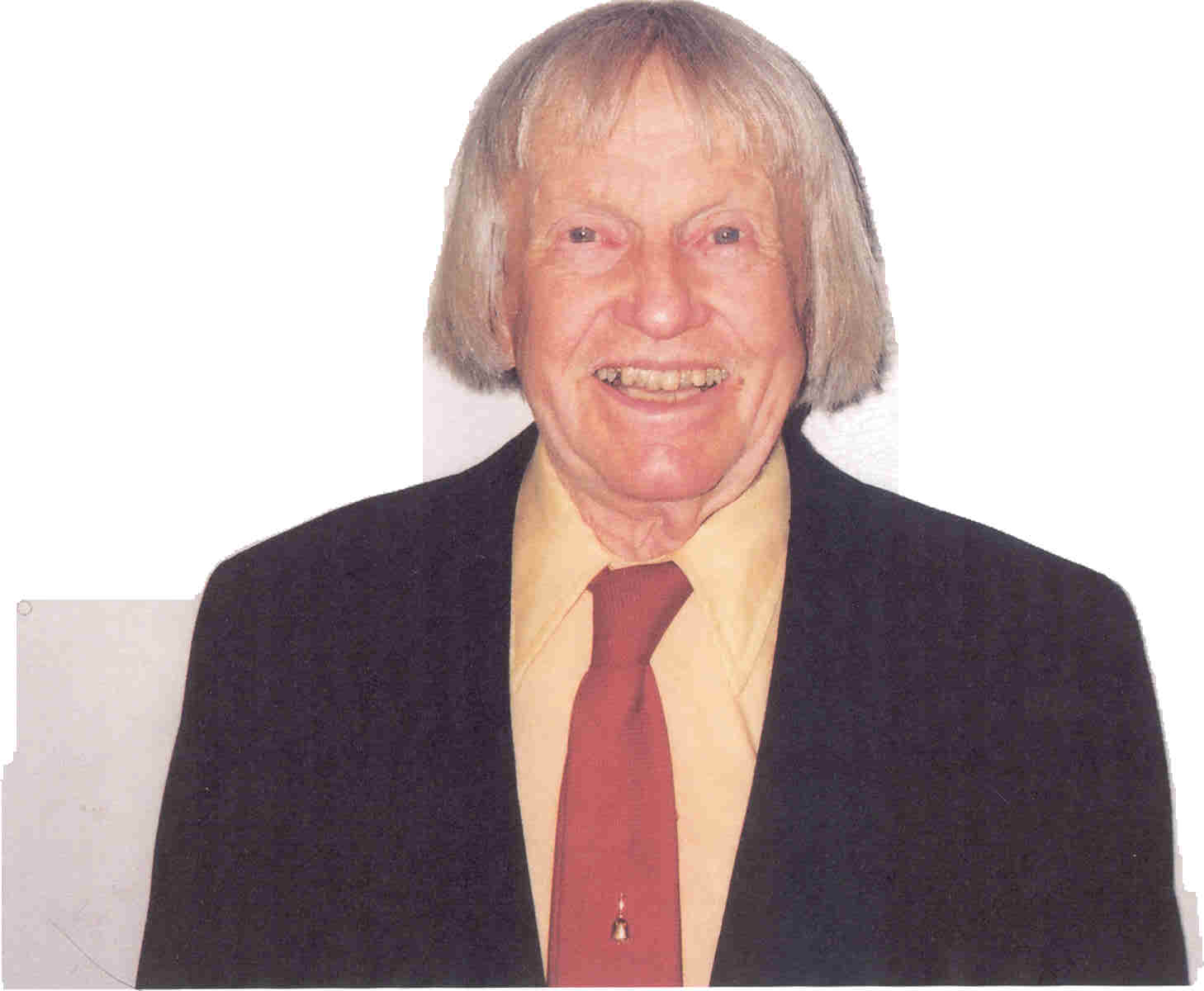 Circa 1955 ......................................................... 2004
I'm sorry to let you know of the passing of my father, Elisha, on Dec. 19th, 2005. He enjoyed a full life of music, dance, flowers, love for everyone and a great good humor. I am asking for your thoughts and prayers for my Mom, Lois, who will have a difficult time adjusting to life alone after 70 years of marriage with my Dad.
A memorial service was held January 25, 2006, in Raymore, MO, attended by four generations of the family, and many friends from the KC area.
We appreciate all your thoughts and prayers,
Ken Keeler and Mollie James
-----------------------------------------------------------------------------
BIOGRAPHICAL CAPSULE - Here's a short one by me (Ken). A much more interesting and complete one follows this.
Elisha was 'famous' in his musical specialty, square dance calling. His style was described as 'singing', as he prompted the dancers through the dance sets. He taught thousands of newcomers how to do the basic steps (swing your partner, do si do,...), and how to follow the callers commands. Much like we jazz musicians today, he had a 'day job': Florist and landscape gardner. He won hundreds of awards from the horticultural societies in his area for growing flowers and vegetables. But his major recognition was for his music, mostly in the New York and New England area.
He made two 'short-subject' movies for RKO in the early 1950s, record albums, and many radio and TV appearances, including "Let's Take a Trip", and "The Bell Telephone Hour." The Arnold Bread company hired him for a series of radio commercials. He was profiled in the New York Times, and the New Yorker magazine in 1957. George Ballanchine read the latter profile and was inspired to create "Square Dance" for the New York City Ballet. Elisha, assisted by wife Lois, and a bit by daughter Mollie, wrote the "patter" to fit the Corelli-Vivaldi musical excerpts. He was hired to perform the calling patter at the ballet performances, which continued for more than a decade! Later, the Joffrey Ballet company continued "Square Dance", and again Elisha was on the stage in New York. 50 years after the debut in New York, the Kansas City Ballet produced a tribute to Ballanchine, performing serveral of his works, including "Square Dance". Elisha was hired as a consultant, to coach the actor performing the caller role, and was honored at all the performances.
Here's a more complete but concise summary of my Dad's life/career by Maureen Koehl, historian of the town of Lewisboro, NY, where Elisha was born and lived for 72 years, and where I grew up. Thanks to the Lewisboro Ledger, Hersam-Acorn Newspapers, and Maureen, for sharing this with me and the family, and those who visit this site.
Keeler calling for the angels now
There is no easy place to start recalling the incredibly creative, busy and long life of Elisha Crofut Keeler who died December 19, in Raymore, Mo. at the age of 98. Elisha was the last of the South Salem Keelers, a line that stretches back to the mid eighteenth century in our town. One of the nine living children of Thaddeus and Gertrude Bishop Keeler, he was born May 12, 1907, the fourth of five brothers and four sisters. He probably achieved the most far-reaching fame of the bunch. It is not hard to describe the man! He was the human version of the Energizer Bunny, never still, always smiling, telling stories, working at his flowers, and most of all, playing, talking and living his love of music! Although Elisha (Lisha) and his wife, Lois, moved from South Salem to Lehigh Acres, Fla. in 1979, memories of the couple have never faded from the minds of those lucky enough to have known them. The two times I visited with the Keelers in Florida I came away with too many stories to even begin to assimilate them. The couple, who each stood about five feet tall, at their advanced ages of 93 and 90, reminded me of a living version of the plastic couple atop a wedding cake with their beaming smiles and matching outfits. Lois was the talker and Lisha was the listener, until he managed to get a word in edgewise, and then the stories got a little juicier and the real South Salem of the 'teens and twenties came to life. A clipped manner of speaking, a musical voice and a delightfully sharp sense of humor characterized the presence of one "America's foremost square dance callers". Elisha is survived by Lois, his bride of 70 years, and his children, Kenneth and Mollie.
"Keeler Calling"
Square dance calling was in Elisha's blood. His father, Thaddeus Keeler, farmer, carpenter and sawyer, was a well known caller and fiddler in his day. There wasn't a musical instrument that a Keeler family member didn't know how to play! Thaddeus claimed to have learned to play the fiddle lying in his bed recovering from a bout of rheumatism and that's why he could play equally well with either hand! His talented son preferred to sing his calls rather than follow the prompting and fiddle playing technique of his famous father, but Elisha was proficient on the piano, banjo, cello, trombone and harmonica, and in later life, he was a handbell ringer.
Until 1922, the Keeler family lived in the house that is now the Lewisboro police station. Southwest of the house was a large barn and sawmill, the upper floor of which provided a bi-weekly square dance floor for village gatherings with Thaddeus as the caller. And that's where Elisha learned his craft – a skill that took him to the big time when, in 1957, he was chosen by George Balanchine to assist in the New York City Ballet's production, "Square Dance". The ballet was performed by the company from 1957 to 1964 and Elisha Keeler was on stage at each performance, calling the square dance patter that he (with the help of his entire family) wrote for the dancers. Opening night he received six curtain calls! The Joffrey Ballet Company revived the ballet in 1973 and asked Elisha to be part of their production from 1973 to 1977.
Being part of the ballet was probably the high point of his calling career, but he loved square dance calling so much, he was still doing it for the senior center in Lehigh Acres into his nineties. And when he wasn't calling dances, he was playing his trombone in the local band, playing golf, and ringing handbells along with Lois in their local church handbell choir.
"Keeler calling" was the sound that started every square dance. Often his calling was accompanied by the family band, The Happy Humdingers, which included Lois on accordion, daughter Mollie on fiddle and son Kenny on banjo and trombone. Kenny is now a Dixieland musician of some fame on the west coast. Mollie has settled down to her horses in the Midwest.
Elisha traveled throughout the metropolitan area and up and down the Northeastern coast calling square dances for festivals, community groups and conventions, more than 2600 by the couple's count. Just a mention of the words "square dance" and he'd be off! He last called in South Salem for the Presbyterian Church's Memorial Day fair in 1987.
Former kids who grew up in town, like Ed Cantine and Tom Herzog, remember Elisha's square dance calling with fondness. The dances were family affairs and many folks came out for them. There was a chance to dance every couple of weeks. The fire department and the South Salem School hosted square dances as well, all with the familiar Keeler calling!.
The big screen and the small screen
Even before his successful ballet debut, Caller Keeler had made two RKO-Pathe movie shorts about square dancing, Square Dance Tonight and Country Rhythm. He also filled his spare time with radio shows on WSTC in Stamford and WLNA in Peekskill. Needing more projects to absorb all his energy, Elisha made a singing commercial for Arnold's hearthstone white bread, which became almost as ubiquitous as the Chock Full O' Nuts coffee commercial about "heavenly coffee"! He also did a Post cereal promotion. The Keelers and a group of square dancers from South Salem even made an appearance on CBS TV in the late fifties on "Let's Take a Trip", a children's show hosted by Sonny Fox.
Bell ringer
Bells played an important part in Elisha's life, too. He never forgot the thrill of ringing the South Salem School's bell at the close of World War I. And on July 4, 1976, he rang the White Church bell in celebration of the Bicentennial. He also was a dedicated ringer of the church's bells on Sundays. As mentioned above, he and Lois enjoyed being a part of the Lehigh Acres handbell choir in their later years before they moved to Raymore, Mo. to be closer to their daughter.
Happy Home Flowers
A look back at Elisha Keeler's life wouldn't be complete without mention of his horticulture enterprise, Happy Home Flowers of Main Street in South Salem. For many years he worked away in his greenhouse and gardens happily engaged in the thing he liked second-best - horticulture. He was instrumental in starting the Westchester Horticultural Society and served as its president. He was president of the Ridgefield Horticultural Society, and Master of the Ridgefield Grange in 1935-36. Elisha was famous for his way with African violets and won many prizes for the labors of his green thumb. In his younger years he plied his trade as a landscape gardener and was the first custodian at the new South Salem School (Lewisboro Elementary School) when it opened in 1941. He took care of several estates in the area, notably that of Theodore Van Norden, who maintained a large home on Bouton Road, but spent much of his time in England. Elisha also did work for the Sterns on Mill River Road, a couple that was later accused of spying and during the course of the investigation, the Keelers were asked for help by the FBI.
Community service
Elisha and Lois Keeler were active in the community, too. They were both very active in the South Salem Drama Group, an amateur acting company that kept culture alive during the 1930s and 1940s. Elisha may have been a shy guy, but once he had the stage, whether it be for the dance or to act, he had the presence of the professional he was. He was a founding member of the South Salem Fire Department. His death leaves Bill Gullen of Camarillo, Calif. the last of the founding members still alive.
During World War II, Elisha worked at the South Salem Studios under the direction of Enzo Yocca, building ship models for the Navy Department, as did many other village residents. He also worked in a Stamford shipyard building tugboats for the war effort.
For many years, Elisha Keeler was active in the South Salem Presbyterian Church, serving as Sunday School Superintendent and elder. He sang in the choir, as well.
The Keeler legacy lives on since the present town house is the former Keeler house. The family outgrew the farmhouse on Spring Street mentioned earlier and bought the Studwell Farm on Main Street. In 1948, the house and seven acres were sold to the town and, in 1950, the converted home was ready to be dedicated as the seat of the Lewisboro town government.
Ninety-eight years is a long life and most of the Keelers lived into their eighties and nineties. Elisha used his years to bring pleasure to others through his flowers, his music and stories. Although there are not as many living in South Salem now who can remember the feisty proprietor of Happy Home Flowers and the leader of the Happy Humdingers, we hope we have offered you a glimpse of one of the personalities that made, and makes, our town such a wonderful place to live.
Click these links to see more information on the ballet productions:
Square Dance ballet in KC , more info on the ballet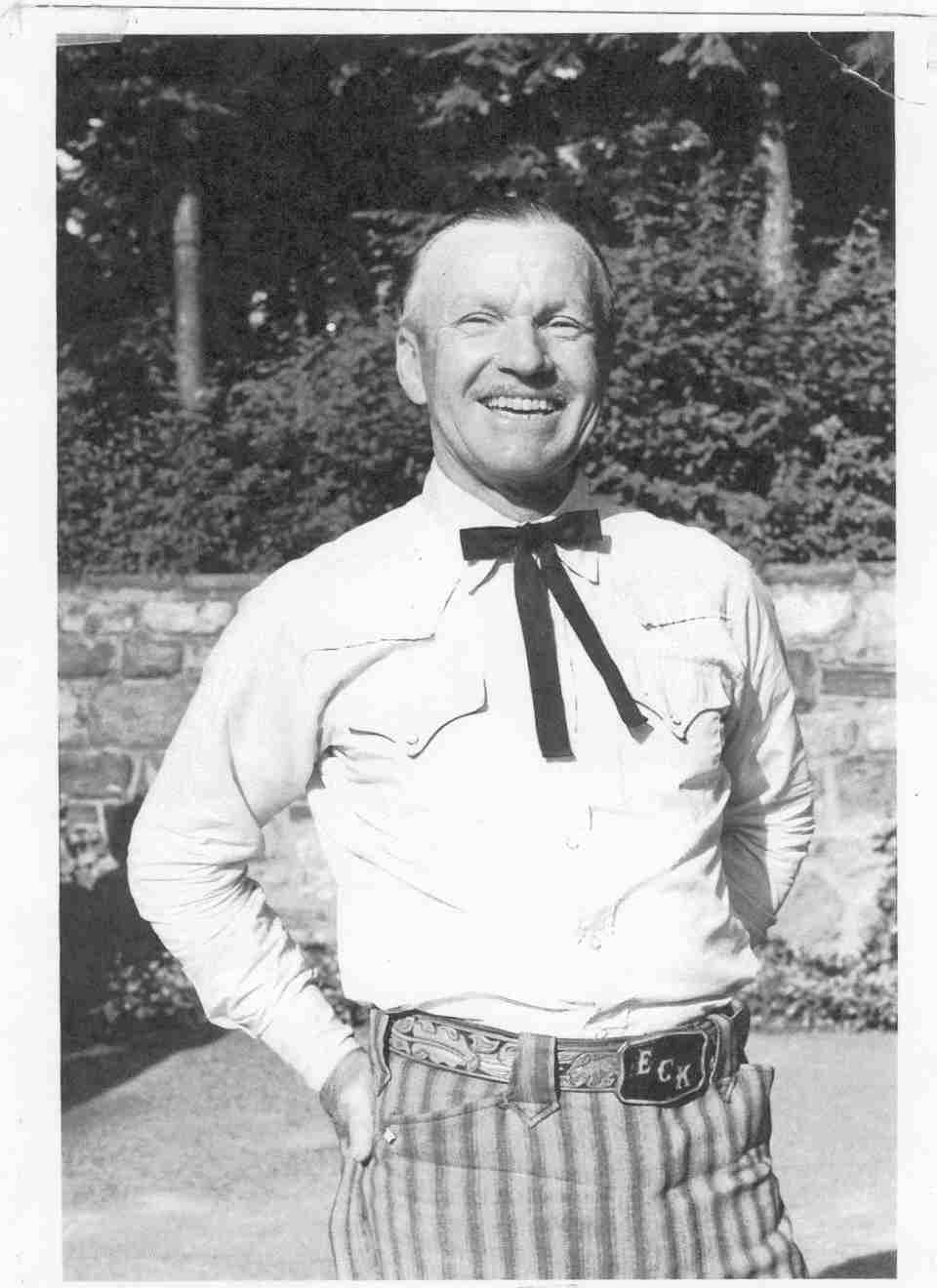 Circa 1965
----------------------------------------------------------------
Obituary in the Kansas City Star
Elisha Crofut Keeler, 98, Raymore, died December 19, 2005.
He was born in South Salem, New York on May 12, 1907. Elisha was recently honored by The Kansas City Ballet Company for his contributions as librettist for the Ballanchine ballet, 'Square Dance'.
Elisha is survived by his wife Lois of Foxwood Springs, daughter Mollie James of Excelsior Springs, son Kenneth of Oakley, Calif. , two grandsons, and six great-grandchildren.
A memorial service is planned for January 25, 2006, in Raymore, MO
In lieu of flowers, donations may be made in his memory to Mollie K. James, (memo: Elisha C. Keeler Memorial Fund), 26024 Ridge Road, Excelsior Springs, MO 64024