DEVIL MOUNTAIN RAG
VOL. XVI No.1  Page 1   JAZZ NUT PRODUCTIONS    APRIL, 2000
HAPPY HOLIDAYS from: The Keelers and

(What Holidays? May Day and Memorial Day, of course.
Oh, sorry, we missed Christmas and Easter!!)
In the hardcopy issue, the band schedule is shown here on page 1. On this web version we ask you to click here to see the band schedule page, which is more likely to be up-to-date.
To return to this newsletter from the band schedule page, please click the BACK button on your browser.
Please scroll down to read the other 3 pages of the RAG.
SUPPORT LIVE JAZZ !!!
---------------------------------------------------------------------------------------------------------------------
Page 2      DEVIL MOUNTAIN RAG       APRIL, 2000
------------------------------------------------------------------------------------------------------------------------
Please Note: WWW and the DM RAG
Yes, the RAG is running a bit behind schedule. The 1999 Cruise and San Diego Festival, et. al., made December publication impossible. About then I also elected to take over web master duties for the band web site, done since 1997, by our Friend of Dixieland, Karen Quick. I decided not publish the RAG until the NEW www.jazznut.com site was ready to be announced. This took a couple months of learning how to revise the web page, html, FTP, and other strange Internet procedures and jargon. I also was in overload, until recent weeks, on another interest in my life, ham radio contesting.
I've been hinting for a couple of years, that eventually this publication would be available ONLY on the Internet World Wide Web. This issue is the first step toward that 2001 target. The advantages in doing this include:
More timely updates on the band schedule (monthly)
Color photos of the band/fans will be displayed
An archive of previous RAG articles will be available
Links to other interesting Dixieland Jazz web sites, including festivals and other upcoming events.
Reduce paper consumption & clutter
Eliminate junk mail for those who don't care to receive this
No subscription fee for those that do
A savings to me of a coupla thousand dollars a year (that's the real bottom line!).
The cost of printing, bulk mail fees/postage and required software for bulk has caused me to stop printed publication on the scale that I have done in the past. So, I'm going to try the "technology" approach. We hope it works for you. Sorry, no photos this time - but, there are many on the internet version.
I know that some of you may never access the Internet, but do want to keep up with band news and activities. So, here's the deal: I will continue to print some hard copy issues and mail them to you FIRST CLASS: for $5 for three issues. I expect I'll do three more issues thru 2001. Those of you faithful who have donated to the RAG fund over the years will also get a prorated share of future hard-copy issues. If your mailing label (upper right hand corner) shows 1997, 1998, 1999, and most comp and xmas, this is your last printed issue, unless you renew. Friends of Jazz (foj on your label) can pick up hard copy issues at our Walnut Creek parties, and we'll have some at festivals and other events. For those who would like an e-mail announcement whenever a new issue of the RAG, or significant band schedule change is posted on the Internet, please send an e-mail to kenkeeler@jazznut.com.
I would value any comments you that you might send to me about this move to the Internet.
. . . . . . . . . . . . . . . . . . . . . . . . . . . . . . . . . . . .
DEVIL MOUNTAIN RAG (from the tune of the same name, composed by Jean Keeler in 1982) is published by:
Ken Keeler -- JAZZ NUT PRODUCTIONS
5480 SELLERS AVE., OAKLEY, CA 94561-3612
tel. 925-625-2707 fax 925-625-9403 e-mail: kenkeeler@jazznut.com
subscription for printed version: $5 for 3 issues
. . . . . .. . . . . . . . . . . . . . . . . . . . . . . . . . . . . . .
FRIENDS OF JAZZ
Our dance party series continues in Walnut Creek, with good crowds and frequent special guests, either in the band or doing intermissions. Virginia Tichenor will be back with us on June 17, to perform her special folk ragtime stuff, and play a few tunes with the band. In October, we again celebrate the music of Lu Watters and Turk Murphy, West Coast Revival night. Other specials are in the works - check the website schedule page frequently, for changes & updates on FOJ.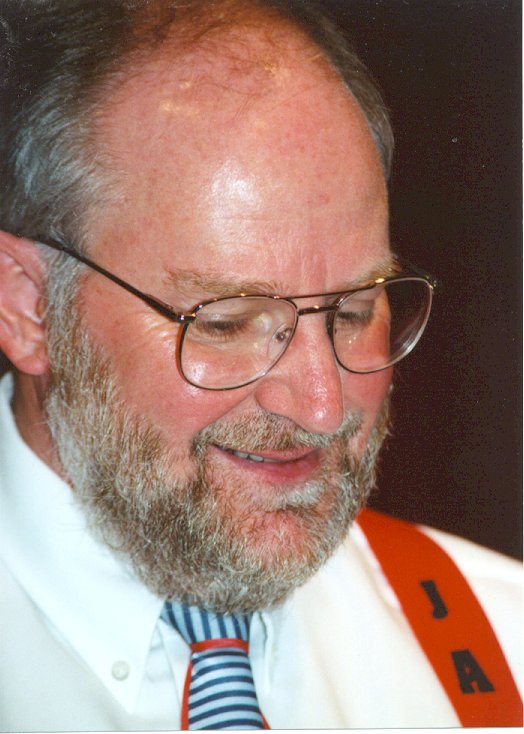 Our New Year's Eve party was a grand success, as usual - no Y2K problems. We had two charter band members back with us - Tom Cantrell and Bruce Stuart, plus old friend Tom Barnebey on the other cornet. Bob Mitchell added to the festivities, playing intermission piano. We celebrated three time zone arrivals of 2000 throughout the evening, saluting the old Jazz of New York, Chicago, New Orleans, etc., as the hours rang in. We might do the same thing at this year's NYE party. Two CDs of the music were made for the attendees, and there may be a few extras for sale. Contact Lynn Schloss for details at 925-938-0391. Make your reservations early, for this years's New Years Eve party, at the same tel. number.
BAND NEWS
The new face in the front line of DMJB for the past few months, is Noel Weidkamp, who is now our primary lead cornet player. He brings great chops, personality, and sight-reading ability to the band, and is adding immensely to our sound. He'll be at most of our local gigs, as well as festivals. Noel can be seen in some of the recent band photos on the jazznut web site.(photo on the right, and the one of Keith on Page 1, are by Sheila Schloss)
---------------------------------------------------------------------------------------------------------------------
Page 3      DEVIL MOUNTAIN RAG       APRIL, 2000
------------------------------------------------------------------------------------------------------------------------

CLINE WINE & JAZZ FESTIVAL- JULY 29, 2000

Our fourth annual event at the new Cline Cellars Winery in Sonoma, is a continuation of the old Oakley Wine & Jazz Fest. held in the 1980s. The setting is just great for this small festival, featuring northern California's finest Dixieland musicians. Bands this year are: Black Diamond Blue Five, Devil Mtn. JB, Golden Gate Rhythm Machine, Jazz Salvation Company, Natural Gas JB, San Francisco Feetwarmers; other entertainment by Virginia Tichenor, Southtown Strummers, and the Grapepickers (Anthony/Keeler). More information can be had by calling 707-935-4310, or click onto the schedule page of www.jazznut.com, then click on the links to the festival and the winery web pages. Flyers are available from the bands.

TRAVELLIN' TALES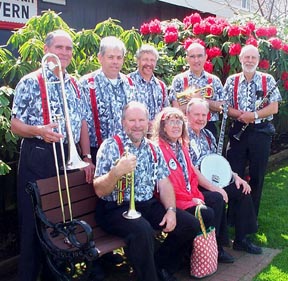 We've just returned from our favorite TRAD festival, the Ragtime Rhodie, in Long Beach, WA. Great weather, hospitality, super bands from the Northwest, and many Friends of Jazz from home and OR/WA added up to a great weekend. Try to include this in your travel plans for the middle of April, 2001.
Cruise '99 to Mexico: A fine time was had at the San Diego Festival in November. After our last set, we bussed off for embarkation on Dixieland at Sea #15, down to the Mexican Riviera. All was well until a few minutes before the first set of the cruise, when we learned that our trumpet book case had not made it onto the ship. It never did, so we played for a full week without our special hot-dance and other arranged tunes. We learned that a lot more of our music was in our heads than we thought, and eventually began to enjoy playing by the seat of our pants! The experience of our longtime regulars, Tom Cantrell and Jim Lee and the "core 5" enabled us to fake it through about 150 tunes without charts. The audience did not know about our supposed handicap until I told them on the last day of the cruise. (We had our music stands set up the whole time, as though there were charts there) I guess that proves that "you can fool most of the people some of the time, etc.
Bands on Dixieland at Sea #16, Sept. 30 - Oct. 7, 2000, include: Uptown Lowdown JB, Devil Mountain JB, Rent Party Revellers, Golden Eagle JB, Golden Gate Rhythm Machine, Black Swan JB, Al Stricker's Ragtime Drinking Buddies. WHOOPEE!! Call Bill at 800-528-1460 for details on the cruise.
For latest updates on DMJB's performance schedule, check the Devil Mountain web site schedule page. If you would like to know when a new RAG or significant band schedule change is posted to the web site, send an e-mail to: kenkeeler@jazznut.com.
NAME THE "BANJO BUDDIES" - a contest!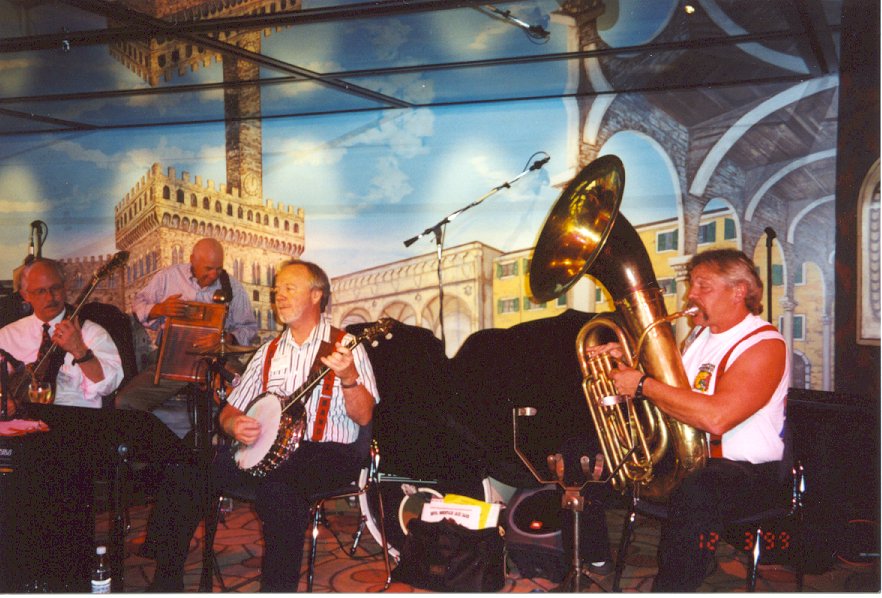 At the 1999 Sacramento Jubilee, Scott Anthony and I were paired up for a set on the Delta King, as part of the weekend "Banjo Buddies" concerts. Although we had played together in banjo specials for many years, this was the first time we two were "the act." That set went very well, and several more gigs resulted, including the Cline Wine & Jazz Fest., the Hangtown Fest., and the 1999 Cruise to Mexico. On the ship I started to solicit names for the Scott/Ken duo (always accompanied by tuba - Maihack or Baltz). Suggestions began to pour in, and from Jean's handwritten notes, we found: Banjo Butties, Banjo Bunnies, Banjo Bodies, Banjo Bullies, Banjo Bottoms, Banjo Biggies, Banjo Piggies, Banjo Chipmunks, Banjo Buggers (from our Brit. friends), Balding Banjos, Banjo Delights, Blistering Banjos, A Burp of Banjos, Belching Banjos, Banjo Busters, Big Busted Banjos, Brooding Banjos, Two Much Banjo, Banjos by Request, Banjos in the Moonlight, Banjos on the Brain, Banjos on My Mind, Blue Banjoo, Oh No- Not Banjos, Banjo Land, Banjo World, A Couple of Banjos, By Jove It's Banjos, By God-Banjos, By Golly Banjos, Banjos by Gum, Tuba 2 Banjos. We'd like you to add to this list, and I'll post your entries on the jazznut web site. Eventually, Scott and I will pick a name, so that we can become rich, famous, and appear on the Jay Leno show. For now, we're the Grape Pickers, when we play at Cline Cellars (next at the July Festival and other winery events). Here's a photo by Bev Gunter of the "buddies" taken on the '99 cruise. "Buddies" are again scheduled for a set on Friday night of the Sacramento Jubilee. Please come by and throw more ideas at us.
SACRAMENTO JAZZ JUBILEE 2000:
Besides the Banjo Boys' set, you can hear three DMJB players at the world famous Washboard Concert in Old Sac. on Sunday, plus Keeler and Maihack in the Margery Thompson Birthday Band set on Sunday night. A complete DMJB set schedule is on the web site schedule page. CU there, KK
---------------------------------------------------------------------------------------------------------------------
Page 4      DEVIL MOUNTAIN RAG       APRIL, 2000
------------------------------------------------------------------------------------------------------------------------

Goodies for sale:

Two new items for sale by mail or bandstand: A CD by our primary trombone player, JIM MAIHACK. He plays all the instruments on this recording of a great mix of tunes, both standards and original compositions by Jim. Complete tune listing on "Never Mind, I'll Do It Myself" and all the DMJB recordings can be found (you guessed it) on the Jazznut web site - Band Recordings. Our other offering is a new supply of Devil Mountain Red Suspenders, which were made for our New Years" Eve party participants, and for those who have been asking for them since stock was depleted a few years ago. We are nearing the end of our stock of older recordings, particularly, "DMJB & Wally Rose," and "You Asked For It." We hope to have a new recording within a year.

return to the Devil Mountain Rag START Page